Posted on
By Tienka van Campenhout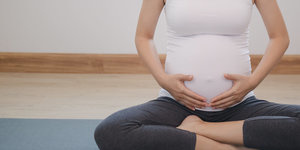 Even when you are pregnant, it is good to keep moving and exercising.
Even when you are pregnant, it is good to keep moving and exercising. But with a pregnant belly, wearing sports leggings with extra stretch and specially designed for pregnancy is just a bit more comfortable. That's why Active Mama is focusing on wearing maternity sportswear in this article.
What is pregnancy sportswear?
If you want to keep exercising during your pregnancy, wearing maternity sportswear is a lot more comfortable. Pregnancy sportswear is customized sportswear for pregnant women. The sportswear is provided with more stretch and should support the belly while exercising. As a result, you are able to exercise with proper support during pregnancy.
The sportswear for pregnancy is designed in a way that the straps and stitching of the garment cannot chafe or sting. The sizes are extra long, providing you with warm and covering sportswear at all times. This allows you to move wonderfully while exercising. 
Tool for sports during pregnancy
Pregnancy sportswear is an aid for during pregnancy. Several pregnancy sportswear brands offer pregnancy sportswear for running, the gym or yoga. Here, a range from tops to sports leggings is applicable. In addition, there are special sports bras, belly bands and underlays that can provide extra support during your pregnancy.
All kinds of maternity sportswear and the best brands you will find in the webshop of Active Mama.